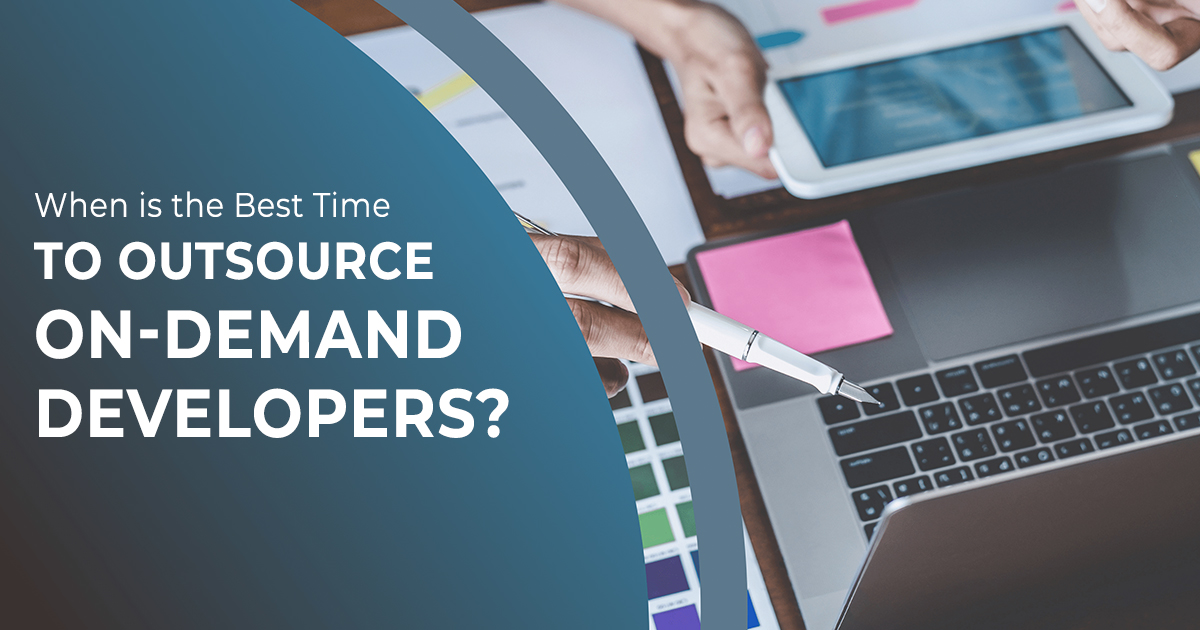 It is always exciting to start a new software project or website. In contrast, the idea that these projects should be completed successfully and within set deadlines and budgets are more challenging. How these projects are completed is the most challenging aspect. Having a dedicated development team in-house isn't feasible for most companies.
Employees at a company are required to receive not only a salary, but also benefits, health insurance, and the hardware and software they need to perform their job duties. Meanwhile, outsourcing offers numerous benefits to companies while lowering their costs by eliminating the need for IT resources. Having competent software developers and designers is beneficial to all companies.
A business seeks to improve its software by finding the right talent with the industry experience to make that vision a reality. However, finding the right talent can be gruesome and time-consuming. Well, in this article, we will tell you when is the best time to outsource on-demand developers, including their benefits and importance for your business.
Table of Content:
What are On-Demand Developers?

Why Should You Hire On-Demand Software Developers?

Benefits of Hiring an On-Demand Developer

When is the Best Time to Out Source On-Demand Developers?

Conclusion
What are On-Demand Developers?
Companies that have on-demand development teams offer highly skilled and experienced software individuals who can assist with the growth, scaling, and improvement of the organization's information technology, website, and overall functionality.
These individuals are not part of the organization's entire staff means they don't work as full-time employees. The company hires them only when it needs them to tackle a specific task for a specific project.
Why Should You Hire On-Demand Software Developers?
Hiring on-demand software developers can help increase your efficiency and achieve your goals by updating software in an organization and adapting to the needs of your business. Following the termination of a contract, on-demand developers will move on to their next project and will no longer be responsible for paying them. When companies need to improve the quality of their services and products, they can pay a one-time fee.
Companies looking for software developers tend to seek full-stack developers, DevOps AI engineers, DevOps data scientists, JavaScript developers, AWS DevSecOps consultants, DevOps Cloud Engineering, DevOps Engineering, scrum masters, and cyber security specialists.
It's not always easy to find a good match for these jobs since years of experience and quality of work are factors that go into the selection process. If time is of the essence, you are best off sourcing tech jobs in-house rather than hiring software developers.
Benefits of Hiring an On-Demand Developers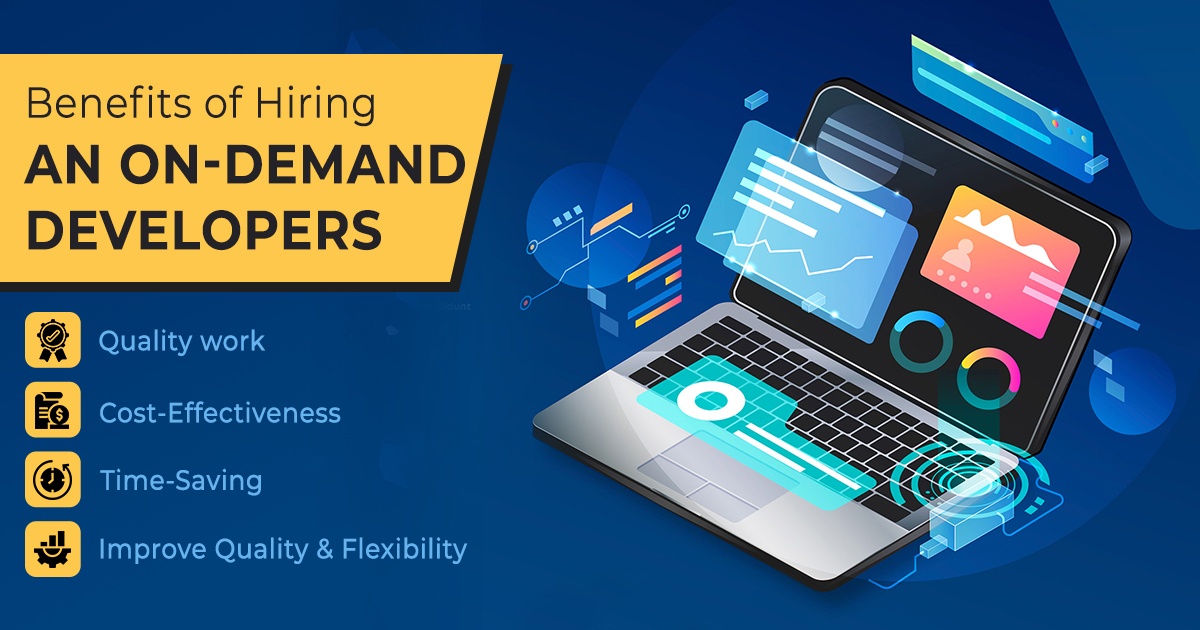 The benefits of hiring an on-demand developer are many if you're updating your software or enhancing your IT department. They are affordable, offer high-quality work, enable the clients to take advantage of the latest technological advancements, support powerful consultations, monitor deadlines diligently, and make adjustments and transitions seamlessly.
Quality work
You get the best quality work by hiring on-demand developers who have experience with many languages and platforms. Choosing an on-demand developer needs to be based on your needs, but many developers specialize in a wide range of fields to be able to expand their client base.
You can be sure you're getting high-quality service from an on-demand developer when you hire him or her for a specific project. An external contractor can be hired at a much lower cost than if you hired someone internally and tried to train them extensively through the course of the project.
As a result of the increased productivity of an on-demand developer, you can invest your time and resources into other aspects of your business that can benefit your company.
Cost-Effectiveness
Hire an on-demand developer rather than an in-house employee as hiring a full-time developer is much more affordable. It's just a matter of paying them for the work they provide. You'll save money when you use on-demand developers since you won't have to pay them a yearly salary.
By reducing costs, you'll also avoid providing benefits, buying IT equipment, and offering PTO to your employees. It is more than likely that you will agree on either an hourly rate or project fee upfront, and you will only pay them when they accomplish the work. On-demand developers are still cheaper and more flexible than hiring full-time developers, even if you hire a few a year.
Before agreeing on a price, communicate with your on-demand developer as any deviations from the agreement will cost you. Hiring a new on-demand developer who lacks experience might be tempting, but it may end up being costly in the long run. Remember, high-quality work comes at a higher price, so don't look for a few extra dollars by hiring an inexperienced contractor.
Time-Saving
It's imperative to work faster as we live in a competitive world. When it comes to completing the work, the developers are the saviors. Time crunches can sometimes result from short leads. In some cases, such a situation can cause a delay. To avoid such a situation, developers decrease the load and improve productivity.
In this case, hiring full-time developers is the best solution. You will be able to meet your deadlines once you hire such dedicated developers. Coordinating and tracking tasks will be less time-consuming. You can use the time saved in this manner to finish unfinished projects.
Improve Quality & Flexibility
Employee productivity increases by 43% with dedicated remote teams. Having the ability to work remotely allows employees to achieve a better work-life balance, keeping them motivated, satisfied, and focused.
Remote employees are more likely to provide better quality work and have 78% less stress than their local counterparts. They increase productivity and are more flexible as a result of working remotely.
Minimum Risk
By hiring another full-time employee you are taking a risk. Time, funds, and resources can be wasted if you don't hire the right person or if they do not work well with the existing programming team. Hiring on-demand developers is almost always a risk-free option.
In case you're not satisfied with the developers, you can hire another. As an on-demand client, you only pay for the work you want to be done. If you're not satisfied, you can always request edits.
When is the Best Time to Out Source On-Demand Developers?
When it comes to outsourcing software and website development, there are a variety of factors to consider. Choosing the best time to do this is the most important factor among all of them. Outsourcing is a good option for getting the job done in many instances, including:
If a project is too small or too large
You can scale your team by outsourcing on-demand software developers on an as-needed basis. The size of the team varies depending on the size of the project and is often scaled-down when work is slow or when business is slow. In the event of a business boom or a bigger project, additional outsourced employees can be hired to help meet the company's specific needs while staying within its timeline and budget.
Projects that require specialized expertise
In the field of information technology, you are unlikely to have employees in-house with experience in every single niche or technology, especially if it isn't part of your normal job description, to begin with.
A company can outsource technology-related tasks to both specialists in the general area of technology as well as to specialists within niche areas. An outsourcing service provider may already have someone on staff who has experience or will learn about the technology needed for a project if it requires a unique set of skills or knowledge.
When you need more developers
Employing an outsourcing team means adding them to your internal development team rather than hiring a few developers. Experts in their field, these companies have worked with a wide range of industries, organizations, and technologies. Alternative perspectives can be offered, suggestions can be made for important decisions, and new ideas can be thought up about problems you encounter during project development.
Other qualified professionals are available to fill additional roles to help deliver successful projects at these companies, including project management, quality assurance, testing, and many others required for completing a project successfully.
When you need 24*7 support
It's crucial for your brand's identity to offer 24×7 customer support. Starting a business or running a small company without a lot of resources makes it difficult for these services to be offered. Consequently, small businesses and start-ups can hire remote developers who can provide their clients with 24*7 customer support. Additionally, you can employ remote developers to build customer support tools and apps, including Chatbots and voice recognition software.
When there's a shortened timeline
Outsourcing software development is not only a faster solution than hiring in-house teams, but the outsourced team can develop and release software much faster as well. The teams already have the expertise needed to start working on projects as soon as possible due to their extensive experience in developing and releasing software products.
Each has a thorough understanding of how things are done throughout the SDLC, along with their roles and responsibilities. It would take much longer, to say the least, for an in-office team to achieve this level of agility, skill, and experience. The reason outsourcing is a great option when deadlines are rapidly approaching is because time is of the essence.
When there's a tight budget
When you hire in-house employees, your budget is always on the verge of becoming stretched. Considering the high wages and other costs, such as vacation time, sick leave, and infrastructure, you'd definitely benefit from outsourcing the development work. It can actually help in reducing operational expenses as well as increase profits by delegating software development to experts.
When you want to grow your startup
It takes a lot of trial and error to develop innovative products with unusual business models. In some cases, the minimum viable product (MVP) is built just to gather feedback from market participants on the viability of the concept. The creation of an agile team using flexible pricing models such as time and material can be completed quickly and at a low cost.
As a business scale, you may benefit from hiring an offshore team whose operations can be flexible, streamline business processes, allow you to expand internationally, and help you handle growth and contraction quite well.
When you want to enhance the effectiveness
An organization can outsource various processes through cooperative methods such as managed services and pay its contractors based on outcomes (rather than, for example, the number of hours worked).
Specialists in this field can help improve the long-term performance of your in-house employees and the entire company with their expertise and focus on solving problems as effectively as possible.
When Routine tasks take much time
Something is definitely wrong if your company continues to remain stagnant for such a long time. You may find that your technical support team is overburdened so much that they have no time to come up with new ideas that will benefit your product.
Your company will succeed if the non-core tasks that need to be done are outsourced. By focusing on your core product, you can lead the company to success.
Conclusion
Thus, hiring on-demand software developers for your project especially from India helps save a lot of time and money. They will also achieve an exceptionally high level of quality and deliver the project within a set timeframe. It is easy to find companies offering such services under different packages at different prices. However, you should choose a leading outsourcing software development company that offers highly skilled and experienced software developers at reasonable prices.
Companies often outsource on-demand developers based on their project needs and financial capabilities. Some companies have only a couple of employees and outsource a large amount of work; others opt to have very few employees and have as little as possible. Nevertheless, the ultimate goal of any business model is to enhance its flexibility and decrease operating costs.