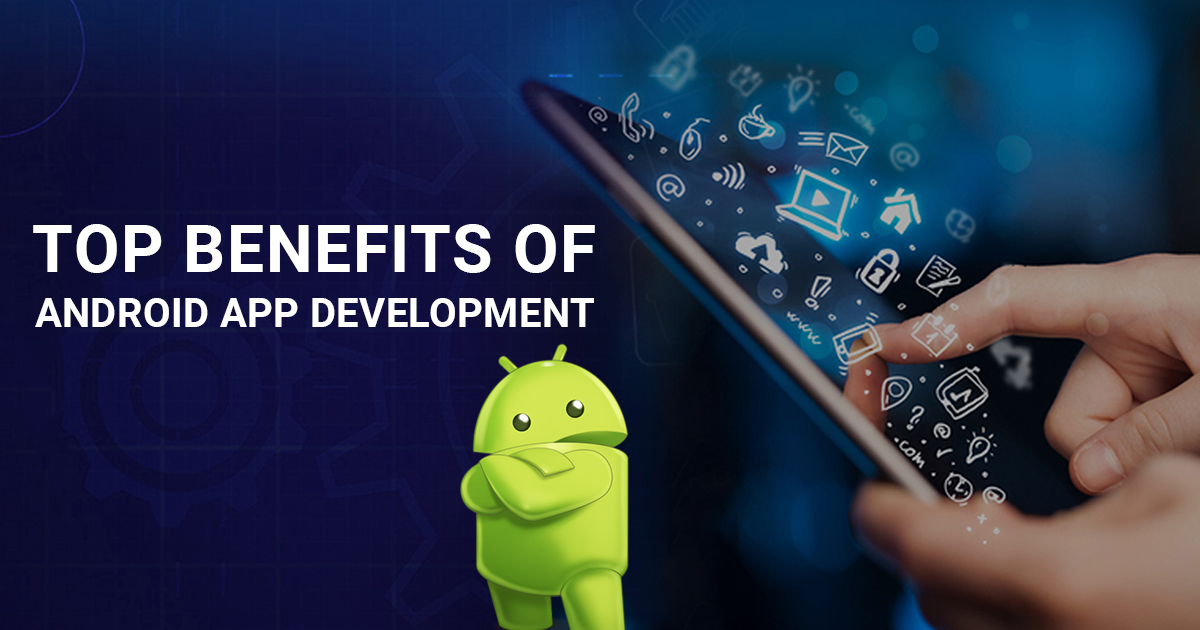 Table of Content:
Current Android Ecosystem
Why Android Development?
Benefits Of Android App Development
Our Native App Development Capability
With the growing use of smartphones, mobile applications have become an essential part of any business success as they help organizations to drive more customers through mobile. The number of people using smartphones is on the move and almost each of them prefers using smartphones, be it online shopping, knowing weather forecasts, searching for local services, reading blogs, or something else.
Smartphones have brought a new revolution in the digital world as they helped businesses boost sales of their online eCommerce business quickly and more efficiently. And when it comes to mobile applications, Android held near about 73% market share of mobile devices across the globe, making it the most used mobile operating system in the world.
As of now, Google Play Store has more than 3.3 million apps and yet is growing faster, which has brought a significant increase in Android mobile app development. As a result, many companies have started converting their iOS app to Android to reach a wider audience efficiently.
Choosing Android app development can help your business get a competitive advantage to amplify and excel in the digital world. In this article, you will learn the top benefits of Android App Development for your business.
Current Ecosystem of Android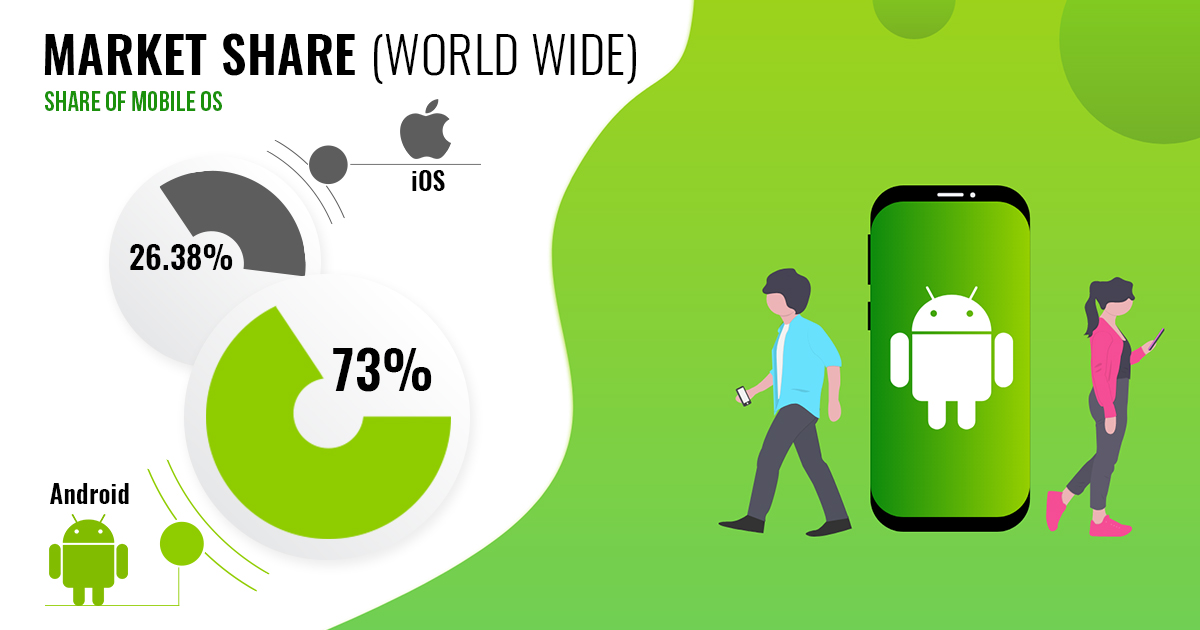 An ecosystem is the result of the interdependence of demand and supply in market terminology. As such, Android users, developers, and equipment makers are interdependent in the Android ecosystem. One cannot operate without the other or independently:
Consumers purchase devices and applications.
Device makers sell devices and sometimes bundle them with applications.
Applications are then created and sold by developers after they buy devices.
When it comes to the current Android ecosystem, there has been a great surge in the Android mobile operating system compared to the iOS platform. As per the Statista, Android app held around 73% of the global market share of mobile devices, while iOS just cover 26.38% of mobile devices used worldwide. Therefore, it can be said that the Android ecosystem has great popularity, which has built its great footprints in the world of mobile applications.
Why Android App Development?
Android has been the most preferred mobile operating application system by small and medium-sized businesses to large enterprises to help them grow and scale up their business faster in the modern world. Here are some reasons why should you choose Android app development for your business:
Higher Revenue
Being an open-source platform, Android provides its Software Development Kit (SDK) to developers and allows them to build, test, and deploy an application in minimum time and effort, thus reducing development costs and time of developers. It enables developers to quickly implement design features and get the mobile applications ready to go and launch in the real world, addressing customers' needs more easily.
In addition to this, Android comes with customizable features and functionalities that make the android app development process faster, smoother, and more cost-effective. You can comprehensively classify the Android app development process into below four steps:
App Design
App Development
App testing
App Deployment
Easy to Build and Deploy App
Android comes with numerous features and in-built powerful tools that allow Android app developers to quickly implement features, add new functionality, create app design, test features, and quickly make the application ready to come into real life, all while reducing development costs and time compared to iOS app platform. Android offers cost-effective and reliable app development solutions for businesses of all sizes.
Perfect for BYOD (Bring Your Own Device)
The concept of BYOD and mobility has been broadly implemented across a wide range of industry segments. They help to facilitate communication and collaboration in the workspace, no matter where you and your employees reside. With the huge market share of Android, you can quickly implement the BYOD approach for your business application.
Reasons don't end here. There are a lot of reasons that make Android app development a perfect choice for your business. Let's have a look at the top advantages of Android app development for your business.
Major Android App Development Benefits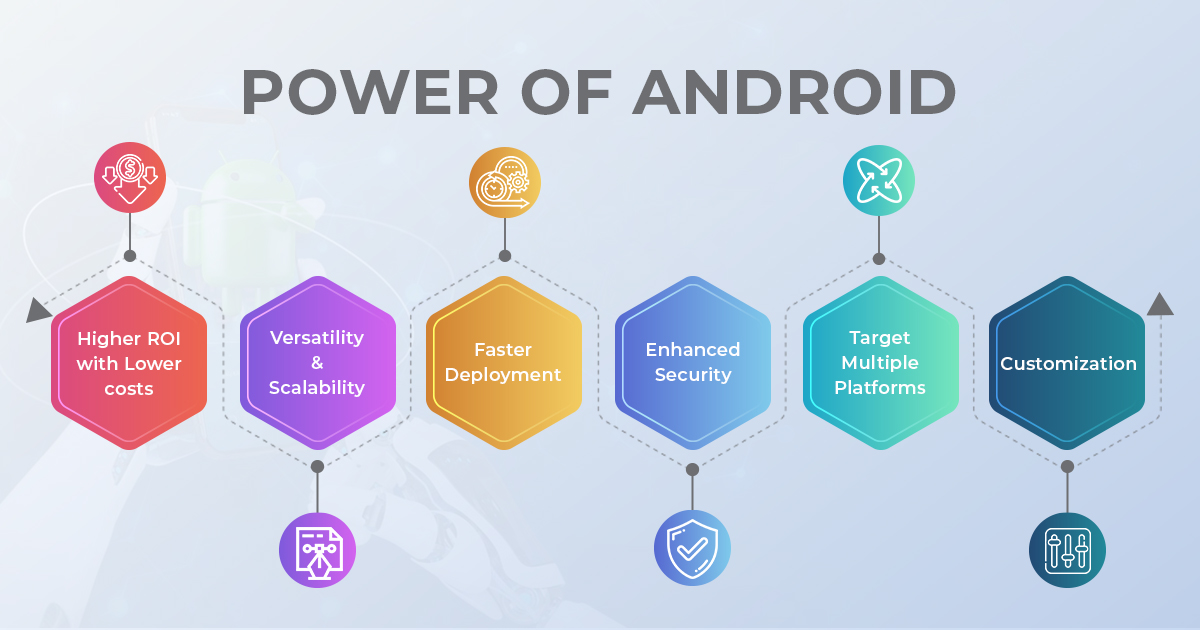 A lot of businesses are swiftly moving towards Android App development to simplify and amplify their business sales by getting more customers across the globe. As the Android app covers a wider audience, you can reap the advantage of the Android app for your business and reach a wide range of audiences covered by the Android platform. Choosing an Android app for your business can help you stay ahead of your competitors and make your business go in the real world.
Benefits of Android Application Development:
Global Reach
Android covers wider audiences across the globe, which is one of the greatest advantages of Android app development. If we talk about Android app global reach, over 82 billion apps are downloaded each year, making it one of the leading platforms in the world of smartphone markets in high populated countries including India, China, and the USA.
Android platform offers cost-effective app development solutions to help businesses scale up and grow their global reach as compared to any other platform. And that's why Android left behind Apple's market share, resulting in acquiring more business by the Android app development companies in the next years.
Hassle-Free Google Play Store Submission
Google Play Store comes with an easy to implement, people-friendly, and low submission barrier process to quickly submit the application on its platform. With the Android platform, it's pretty easy to get your application approved on Google Play Store and make it available ready to use for users as it follows Google philosophy.
Conversely, when it comes to the Apple platform, some of the set rules are incompatible with those appearing on iOS. Sometimes, approval takes much more time than expected, which causes delays in the launch of applications and further business losses.
Easy Customization
Android comes with complete flexibility and provides easy-to-customize features that make Android the best option for your app development. Businesses who want to build enterprise-grade applications with numerous features and functionalities can take advantage of this feature.
Be it making simple changes or adding complex app functionality, Android is proven to be the most effective platform to address any business needs with high flexibility solution.
Developers can quickly integrate or upgrade a wide range of tools and functions for easy data management and then link them with modifications. To reap all the benefits, features, and functionality of the Android App platform, hiring a dedicated Android app developer can help.
Robust Security
Security is one of the most important and biggest concerns for any online business. When it comes to the Android app platform, it provides in-built powerful security features and regular updates by Google to make the application more secure and scalable.
Compared to the iOS platform, Android provides various security features and updates to make the application up and running smoothly without having any issues. So, it can be said that security is another yet must-have advantage of Android app development.
Android has the most advanced and updated system that no malware or security threat can even locate its data structure. Furthermore, it keeps sending push notifications to help users keep updated with their systems or applications.
Wearable Device
Wearable devices are another biggest advantage of Android app development. This technology is becoming a standardized part of corporate life. Wearable technology has gained ground as a practical correspondence tool. Android portable applications also control smartwatch warnings. According to insights, more than 54% of projects take advantage of the BYOW (Bring Your Own Wearable) strategy. Wearable technology can be incorporated into your business framework with the help of a venture-grade Android app.
Scope for Innovation
Android comes with a global presence, which is one of the greatest strengths of the Android platform. Various features of the platform make it easy to approach your target audience. Using the latest technological advancements available to Android developers will help you make the most out of your app. The Android platform allows you to develop high-end apps with modern technology like AR and VR at an affordable price.
Easy to Use
As a result of its Java language and widespread familiarity with it, Android is extremely intuitive to use. On top of that, Java has a good set of libraries and is much better suited for creating high-end applications. It can thus be said that developers do not need to be experts in multiple, complex languages to create Android applications. Therefore, it helps organizations save their development cost by making the entire Android app development easy to approach even for beginner app developers.
Higher Sales Avenue
You can download Android apps from any channel or multiple channels but you can't download iOS apps from multiple channels. Regarding Android apps, they are downloadable from the Google Play store as well as various websites where realtors choose to promote their businesses. It can be seen that many leading Android app development companies are generating huge revenue with Android app development services.
Android platform provides customers with a variety of sales and distribution channels, allowing them to generate more business revenue. Moreover, it also allows you to set up your own distribution and sales channels to promote your app more effectively.
Our Android App Development Capabilities
When it comes to Android app development, Crest Infosystems held large Android app development capabilities and high resources to build the most advanced, robust, and feature-packed Android applications for businesses across different industries.
Knowing the android app development benefits, our team of dedicated Android app developers employs the best practices, modern approaches, and cutting-edge technologies to design and develop future-ready applications that meet your custom business needs.
No matter what industry you belong to, we can help build futuristic applications that drive your business forward with successful outcomes. From retail & E-commerce and medical & healthcare to sports & fitness, we have developed a wide range of applications that helped businesses thrive in their market.
Conclusion
Thus, you might be clear about the benefits of android development for your business. Getting Android app development services from any leading Anrdoid app development can help build perfect applications and reach out to more customers through various loyalty programs and sales channels.
At Crest Infosystems, we have a dynamic team of highly experienced Android app developers who have several years of experience in building futuristic Android applications for various industries. Our IT expert can help you gain a competitive advantage that makes your business app thrive in the app market and generate more business.
Get in touch with us to get a free consultation about your app development project requirements.