Nowadays website maintenance is cumbersome as there are rapid developments going on with web technology, as there are many information circulation and research discoveries are being done continuously, trending websites on the web today might look old fashioned, static, and filled with outdated contents in a few weeks or months to come. So how can you solve this?
In order to get the best results from your website, it is very much important that you regularly maintain it. This will allow you to check if there are any errors, spam, broken links, security threats, outdated content and helps you ensure you are promoting yourself in order to boost your marketing.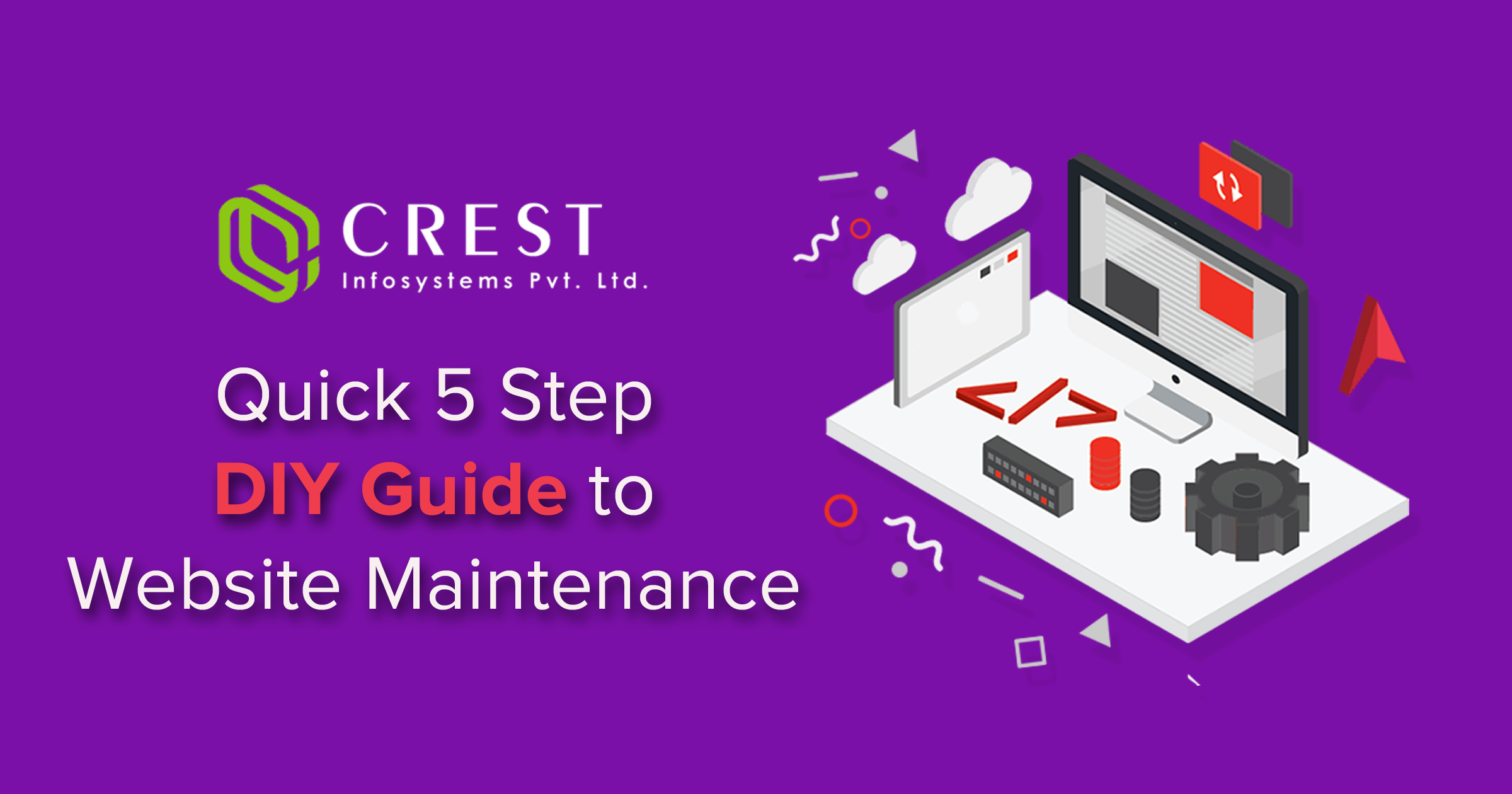 Here we have organized the top 5 tasks you should perform to maintain your website:
1. Content is and always will be the King:
One of the very important and first maintenance tasks on our list is your website content. Because that is the main thing which you have for people to visit and read on your website in the very first place. Poorly written content with general errors, bad grammar is a big negative for your site and will eventually seal up its fate. So without a delay, take a bold step and really do the needful to update your website by adding new content, removing bad articles, and cleaning up your site to look and sound good.
2. Revamp | Redesign Your Websites Look:
As content is the king of the website in the same manner the beauty of a website is the queen. You have only a few minutes to grab any visitor's attention once he lands on your homepage so it is very important to have a great design. If your website looks old, disorganized, or really bad, there are full chances that your client will leave the website without exploring or even reading any of the content you have taken time to write.
So it is advisable to make sure your site looks fresh and loved by everyone because that's how your potential visitor will expect it to be. Quickway to revamp your website is by giving it a new design, updating new and better images, making the user experience and visual designs better. The more attention the visitor will have the more he/she will be engaged.
3. Deal with broken and dead links:
Having a dynamic, engaging, and good-looking website with awesome content is one thing, but being unable to access these contents because of broken and dead links or wrong redirects is a disaster that can directly affect the growth of your business. So it is important to take out time to regularly go through all links on your website and make sure everything is working as expected. However, depending on the size of your site, this might be time-consuming and stressful to do manually. So it is advised you look for plugins that offer you a broken website link checking feature.
4. Check out your Competition:
It is also important to keep checking out your competitor's website (Or the trending website in your niche) as it helps you compare and upgrade your website to be better and stand among the best. If you ignore this step then you will find yourself left behind and all your hard work marketing strategies will not be living up to the expectations.
5. Update your Website Security:
If you own a website then there are chances for you to be get hacked. In order to save yourself from hacking – You must monitor threats and keep on fixing up different preventive measures which can protect you from attacks. In this approach, you need to keep on updating the security protocols as developers keep on working to make them better and protect you from more recent hack tricks and viruses.
So here is the list of 5 important steps which you can follow for your website maintenance.